Author:
Alžběta Brychtová
Vít Pászto
Contact: 
alzbeta.brychtova@gmail.com
Type of research:
PhD research
Type of stimuli:
Static image, Web page
Date: 
05/2013 
The aim of the study is to evaluate The Crisis Map website design to achieve maximal efficiency of manipulating and reporting user needs during crisis events.
---
Methods
Procedure
The eye-tracking experiment consists of four tasks over two types of stimuli. Tasks were design in order to find out whether users pay enough attention to important elements of the map interface and whether the design of the map interface is intuitive, so that users can easily perform manipulating and reporting events during crisis events.
Another three tasks were to solve case problems which represents a typical activity over The Crisis Map. Participants had to complete following tasks over web page environment of The Crisis Map:
to report an accident or crisis situation,
to find information about crisis situations nearby a given location,
to find special needs within a location of a crisis situation.
Independent variables
Three independent variables were studied: colour distance, order of the interval in the color scheme and legend position.
Stimuli
The experiment consisted of 4 stimuli. One of them was a static image of the Crisis Map website front page; another three were interactive web pages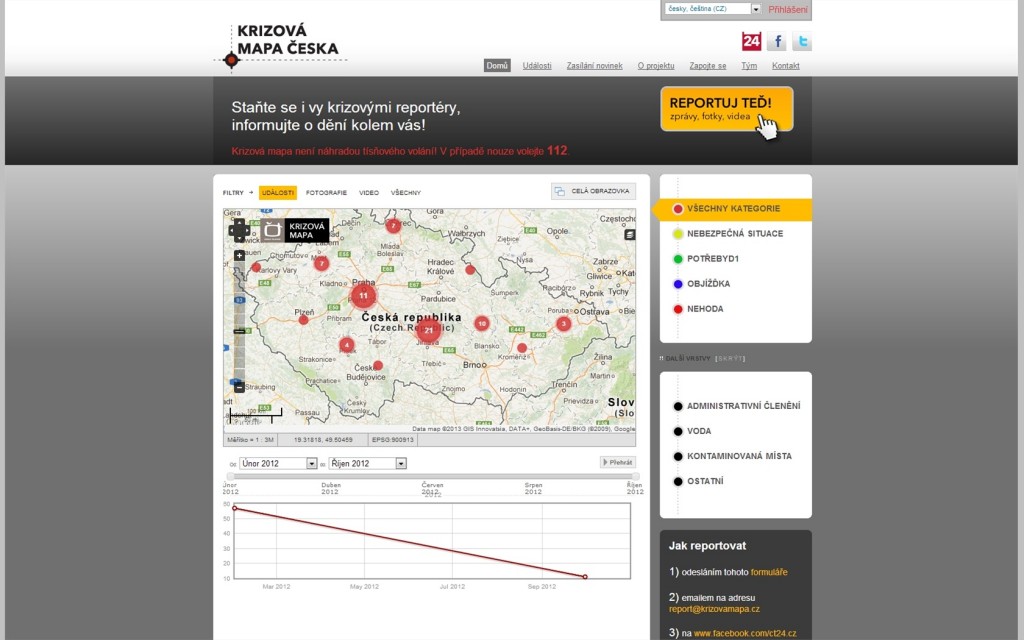 Participants
8 volunteers were ask to participate. Respondents were not asked about their gender or expertise. The participant age ranges between 25-55 years, all of them were students or employees of the Department of Geoinformatics from the Faculty of Science, Palacký University in Olomouc.
Apparatus
For the eye-tracking study the remote eye-tracking device SMI RED 250, developed by SensoMotoric Instruments, was used. 
---
 Analyses
All experimental tasks were evaluated separately. Due to the fact that stimuli are of different types (static image and interactive web pages), different approaches of analysis were applied on eye-tracking data. Analyses were performed mainly manually by interpretation of video screen recordings and supported with response time analyses.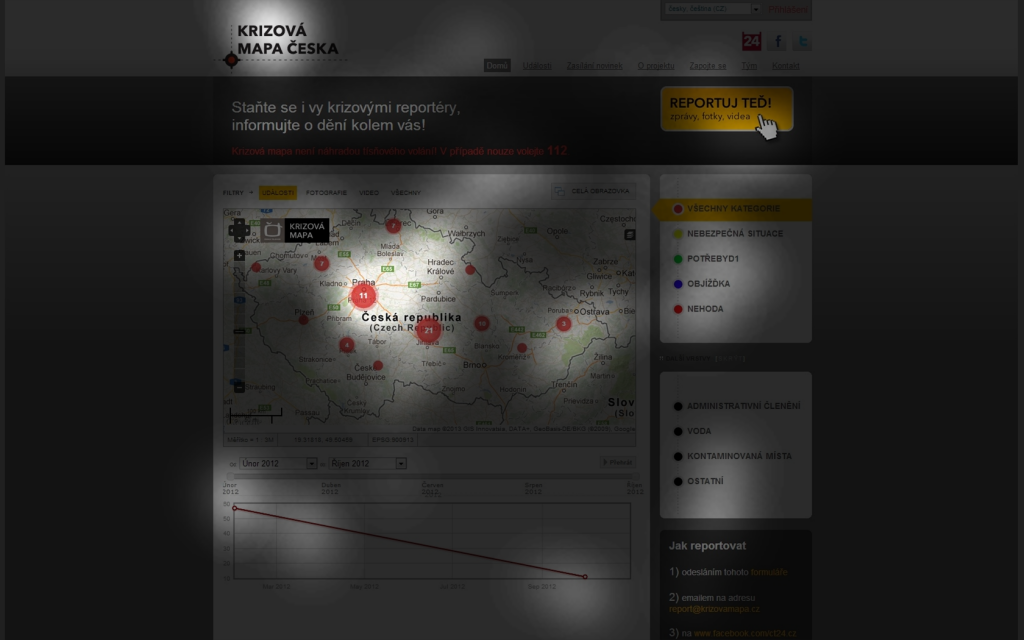 Task 1, Participant P01
Task 2, Participant P01
Task 2, Participant P01
---
Conclusion
In this study the evaluation of eye-tracking data was used to determine how users utilize the web interface controls of The Crisis Map while solving tasks for which the map was designed and to detect trouble spots. It was found that some parts of the map interface are not designed precisely, so that users are absolutely aware of their purpose. These finding based on simple analyses could help to optimize the design and increase the usability of The Crisis Map in future.
---
Outputs
Brychtova, A., Pászto, V., Marek, L., and Pánek, J. (2013). Web-design evaluation of the Crisis Map of the Czech Republic using eye-tracking. In International Multidisciplinary Scientific GeoConference Surveying Geology and Mining Ecology Management, SGEM (Vol. 1, pp. 1065–1072). Sofia, Bulgaria. doi:10.5593/SGEM2013/BB2.V1/S11.058
---
 Downloads